THine's THEIA-CAM™ 13MP PDAF Camera Kit - Powered by MediaTek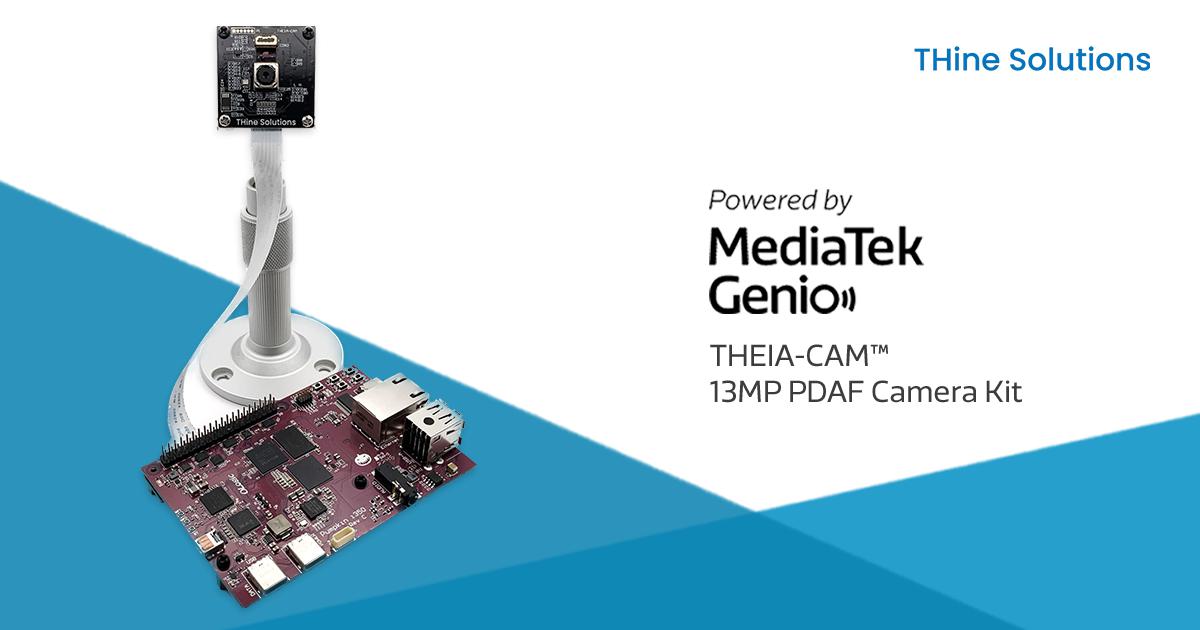 Discover THine's THEIA-CAM™ 13MP PDAF Camera Kit to accelerate AI + IoT product development. Using OLogic's Pumpkin i350 and Pumpkin i500 Evaluation Kits (EVKs), which are powered by the respective MediaTek Genio 350 and 500 SoCs, this high-resolution camera kit streamlines the integration of THine's advanced imaging capabilities into new and innovative products.

Based on THine's THP7312-P Image Signal Processor (ISP) and Sony's IMX258 13MP CMOS PDAF image sensor, the THSCP101 Kit is designed to interface to the Pumpkin i350 and i500 EVKs. These edge AI platforms designed for mainstream AI + IoT applications that require vision and voice edge processing, such as facial, object, gesture, motion recognition, LPR, voice activation and speed recognition, sound isolation, bio-tech and biometric measurements, and more. They perfectly complement the THEIA-CAM™ family of kits that address wide-ranging camera applications including AR Glasses, Barcode Reading Devices, Biometric Devices, Bodycams, Document Scanners, Machine Vision systems, Medical Scopes, Microscopes, Surveillance Cameras, Vision Assistance Glasses, and Webcams.
"Integrating THine's established vision system technology into our solution suite adds another advantage to our AI + IoT ecosystem," said Stéphane Le Provost, Senior Director of Technology at MediaTek. "This kit makes it simpler for customers to include camera systems in their products without having to manage the long and expensive process of developing and producing them from scratch."
Sign up for our monthly newsletter
EXECUTIVE INSIGHTS | LATEST NEWS & EVENTS | PRODUCTS & TECHNOLOGIES