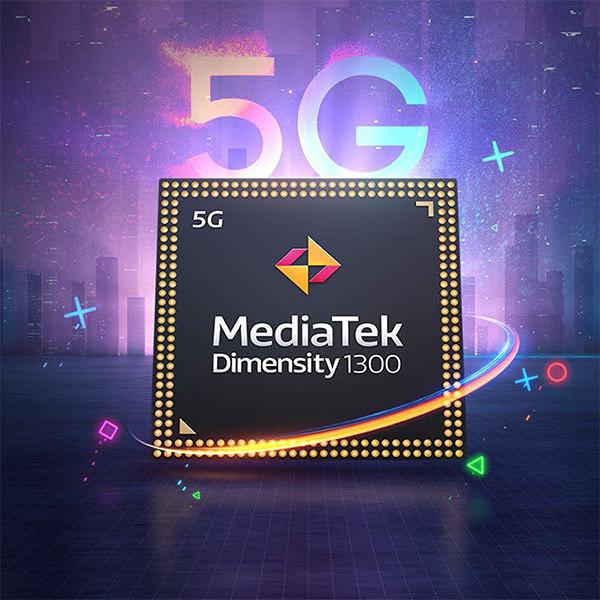 Top 9 features of the MediaTek Dimensity 1300
Building on the immense legacy of the MediaTek Dimensity 1000 family of 5G-integrated chips, the latest MediaTek Dimensity 1300 is ready to give incredible, everyday smartphone experiences. Below lists the top 9 features from this epic chip:

1. 3GHz 'Ultra-Core' CPU
Inside the octa-core CPU within the Dimensity 1300, a 3GHz Arm Cortex-A78 'ultra-core' stands out to provide peak responsiveness in apps and games. In addition, there are three other premium Cortex-A78 cores, plus four Cortex-A55 efficiency cores.
2. HyperEngine 5.0 gaming technologies
Embracing the latest generation of HyperEngine technologies, the Dimensity 1300 offers the latest AI-VRS graphics enhancement, plus second generation Wi-Fi/Bluetooth coexistence technology and Bluetooth LE Audio technology with Dual-Link True Wireless Stereo Audio that lowers the connection latency for wireless earbuds.
3. Made with super-efficient 6nm-class technology
Embracing TSMC N6 '6nm-class' technology, the Dimensity 1300 is exceptionally power-efficient, extending battery life and running cooler.
4. 5G that's made for everywhere
A power efficiency-first design means building the 5G modem directly into the chip, and providing a full suite of power saving enhancements in MediaTek 5G UltraSave.
5G-CA Mixed Duplex across TDD/FDD gives greater coverage and faster average speeds. Two specialist enhancements called '5G Elevator Mode' & '5G HSR Mode' ensure a seamless connected experience with immediate recovery time when emerging from cellular dead zones (elevator mode) and reliably better sustained performance when traveling on fast transport (HSR mode).
5. Faster AI Scores
AI benchmarking results that are boosted by up to 10%, giving greater capacity for AI tasks.
6. Fast low-light snaps and unique AI-camera capture modes
Excellent low-light performance and fast captures mean Dimensity 1300 powered smartphones are great for shooting pics in all conditions. Unique AI-camera capabilities include using AI noise reduction (AI-NR) in panoramic captures at night, and with HDR.

7. 4K HDR Video Capture with 40% Greater Dynamic Range
'Staggered' 4K HDR video recording mode performs real-time, 3-exposure image fusion to give 40% greater dynamic range in video capture versus standard HDR.
8. AV1 video decoding hardware built in

Now used by global media streaming services, AV1 hardware decoding - as featured in many MediaTek Dimensity chips such as the Dimensity 1300 - has become an essential smartphone feature to provide new levels of visual detail, crisper sound, and higher resolutions, without the hit on battery life.
9. MediaTek Miravision
MediaTek MiraVision can support and enhance HDR10+ video playback, and even upgrade video streams on the fly, converting SDR content to HDR using AI Video with dynamic, per-frame picture tuning for a precise image quality upgrade.
Sign up for our monthly newsletter
EXECUTIVE INSIGHTS | LATEST NEWS & EVENTS | PRODUCTS & TECHNOLOGIES