Top 9 reasons you'll want the MediaTek Dimensity 1080 in your next smartphone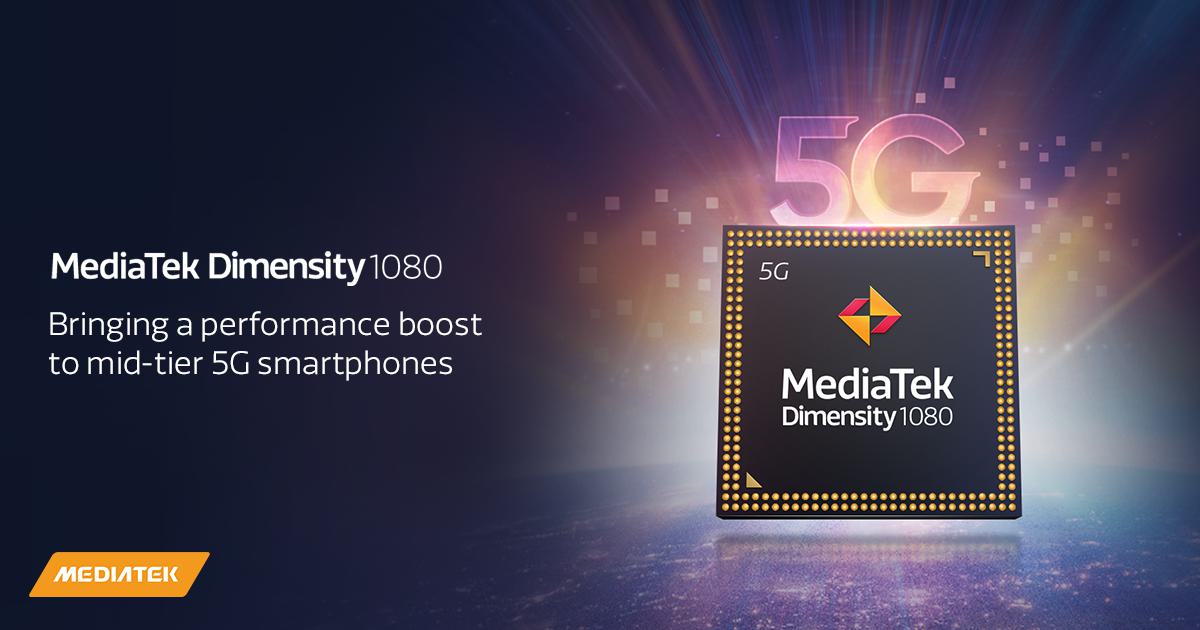 Bringing a boost to mid-tier 5G smartphones, the new MediaTek Dimensity 1080 lets you do some impressive things:
1. Faster performance, smoother games
The pair of Arm Cortex-A78 processors in its octa-core CPU now speed up to 2.6GHz, ensuring rapid App response and better multitasking. Meanwhile, the Arm Mali-G68 graphics engine and MediaTek HyperEngine game technologies work in partnership, so users can enjoy smoother gameplay that stays connected.
2. Exceptional power-efficiency
The Dimensity 1080 uses an advanced 6nm-class chip-making process, ensuring superb power efficiency and longer battery life.
3. 200MP at your fingertips
The Dimensity 1080 supports smartphone designs with up to 200MP main cameras, giving you the chance to capture supremely detailed shots.

4. Record 4K videos in HDR
Snap or stream in premium 4K, with vivid HDR visuals. The Dimensity 1080 automatically adds premium noise reduction technologies that let you simply point and shoot the camera, regardless of the lighting available. It dedicated video recording engine means it records more efficiently, keeping the smartphone cooler and extending battery life, allowing you to stay behind or in front of the camera for longer.
5. Integrated AI processor
The MediaTek APU inside the chip means professional AI-camera tricks like single camera bokeh are effortless and look great.

6. MediaTek Intelligent Refresh Rate Displays
Its intelligent display technology takes superfast displays and adjusts the refresh rate to only react when the game or app needs it, giving you all the benefits of more reactive response and smoother action, without the hit on battery life.

7. Power-efficient connectivity
The Dimensity extends smartphone battery life by building all the wireless connectivity - 5G, Wi-Fi 6, Bluetooth and GNSS - directly into the 6nm chip.
8. Faster 5G with greater reach
By combining up to 120MHz of 5G bandwidth across low-bands and mid-bands with 2CC carrier aggregation, you get faster average speeds, greater reach, and seamless movement between 5G areas across a coverage layer.
9. Dual 5G with premium voice call services
Get the benefits of dual 5G SIM with both connections capable of talking to the latest 5G standalone networks, and chat to others using higher quality VoNR call services.
Sign up for our monthly newsletter
EXECUTIVE INSIGHTS | LATEST NEWS & EVENTS | PRODUCTS & TECHNOLOGIES