Tri-screen eCockpit system powered by Autus I20 demoed at IAA New Mobility World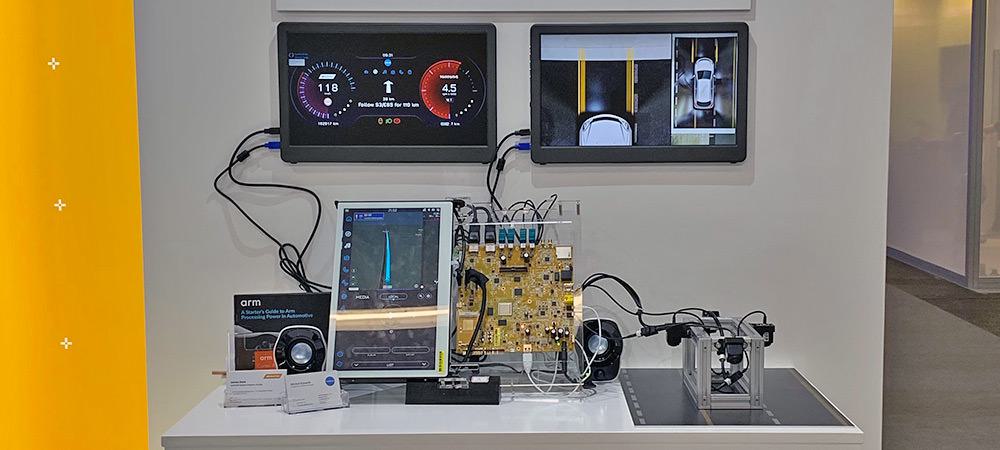 In collaboration with Mobica software and TomTom navigation, MediaTek demonstrated its Autus I20 (MT2712) platform at IAA New Mobility World. The demonstration showcased a highly-integrated platform that combines instrument cluster, infotainment (IVI) and surround view monitor (SVM) into a single platform. This three-display Cockpit Domain Controller solution is scalable and market-ready, bringing together three traditionally distinct functions together into a single platform that reduces costs, development complexity and system size.

The MediaTek I20 (MT2712) combines a powerful hexa-core CPU featuring four high efficiency Arm Cortex-A35 processors and two high performance Cortex-A72 processors together. This CPU complex is paired with a high-performance Arm Mali-T880 MP4 GPU, plus support for up to three displays and four FHD digital cameras. This provides a variety of combinations and customization potential such as instrument cluster, infotainment display and a live feed of surround-view cameras - as this demonstration exhibited - or other trends like live cameras replacing wing-mirrors or a third display for climate-control touchscreen functions, for example.

Instrument Cluster

The Mobica cluster HMI shows the full range of information required to the driver such as vehicle speed, a highly-responsive rev counter, warning indicators and turn signals. It includes safety mechanisms to enable an automated recovery in case of an error.
Infotainment

The Mobica infotainment software solution provides the user with functionality such as media playback, vehicle settings and phone connectivity, while the navigation solution is provided by TomTom.
Surround View Monitor

The SVM system is provided by MediaTek SVM. This system seamlessly knits together views from multiple cameras to give the driver a clear picture of the car's surrounding and any obstacles or hazards close to it, aiding the driver during maneuvers and parking.
Sign up for our monthly newsletter
EXECUTIVE INSIGHTS | LATEST NEWS & EVENTS | PRODUCTS & TECHNOLOGIES