What is... Imagiq?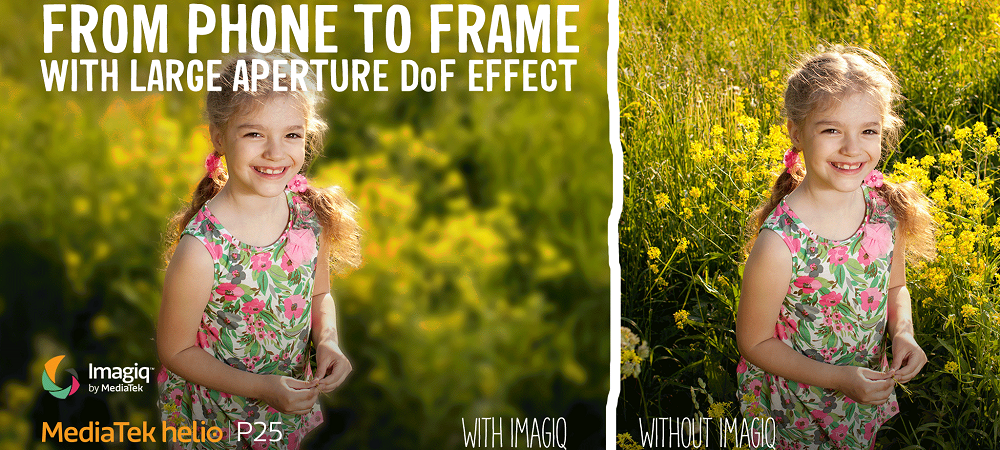 Imagiq 2.0 is featured on 2017 MediaTek smartphone products including the recently announced Helio X30, and upcoming chipsets. The second generation of Imagiq functions have been optimized for the dual-camera era.
Twin image signal processors (ISPs) can support two independent camera sensors. These can be color + mono to take advantage of improved low-light performance, but often they are now the same sensors paired with wide + telescopic lenses. This gives the user ability to do wide and optical zoom pictures, flicking between modes on the fly to choose the right shot. Currently 2x optical zoom is frequently offered, but more brands are researching ways to give increased range to increasigly provide a viable replacement for variable lens cameras like entry-level dSLRs and video cameras.
On the topic of dSLRs, importantly the dual sensors with differing lenses can focus on the same image at the same time, with the resulting two images overlapped and intermixed in real-time, to yield an image with depth of field effect. This particularly sought after photography mode generates a result similar to how we natively view the world around us, drawing focus to particular parts of the image.
To enable an fast and user-friendly dual camera system, MediaTek has developed several enhancements for Imagiq 2.0. All items listed are available on the premium Helio X30 - giving is the best possible photographic experience.
Visual Processing Unit
The new Vision Processing Unit (VPU) is a hardware, 500MHz processor that is paired to the Image Signal Processors (ISP). It provides a dedicated processing platform for numerous camera features, freeing up the CPU and GPU and saving power. Key advantages include:
Programmability and Flexibility: The VPU provides a platform that allows brands the ability to customize camera functionality and drive product differentiation.
Huge Power Reduction: The VPU is a dedicated camera-assisting hardware unit it has the ability to perform real-time processing functions, that were typically assigned to CPU or GPU, with only 1/10th power usage.
Performance Boost: The VPU can still be used in isolation or as part of a team with the CPU/GPU, employing heterogeneous computing on same memory subsystem for advanced system or multi-application/function tasks.
The VPU processor gives you more battery life to keep shooting pics all day long, and a consistently fast experience even if your smartphone is background busy with other tasks, or the app or camera filter you're using needs post-process actions.
Electronic Image Stabilization (EIS) 3.0
This is important if you shoot video. It combines image and gyro sensor information to perform high quality grid-based EIS, resulting in smoother videos and less jello effect. Image warping used to be conducted by GPU. Imagiq 2.0 introduces a Warping Engine to accelerate this task for the first time in a mobile device. EIS, lens distortion, or other image transformations are now be fixed by using the highly efficient VPU directly.
Instant Auto Exposure
Another hardware function is the dedicated camera control unit (CCU). Auto exposure compensation is now virtually instantaneous. You go from a bright outdoors-to-dark indoors and it's finger-click fast. Great for video and accurately catching that one-time shot.
Multi-frame Super Resolution
This is a technique that takes multiple shots and combines them to form a "super" resolution far beyond the resolution of the original image. It allows you to shoot a far bigger scene by automatically stitching the images together.
Multi-frame Noise Reduction
Another multi-frame technique. This one reduces noise by recording the same scene multiple times and omitting the random pixel 'noise' generated in low light conditions. A new multi-frame blending engine uses a number of input images to conduct noise reduction and applies a smoothing processing of regional occlusion. This is now processed in real-time so the user will hardly tell if a multi-frame noise reduction photo was just shot.
Motion aligned Temporal Noise Reduction
Another noise reduction technique new to Imagiq 2.0, this time related to motion compensation. Temporal filtering is applied to motion align pixels, improving the quality of previews and recordings. It is so much more effective than before, that the ISO gain can be up to two stops more.
Super-Slow Motion
Videos can be recorded up to 960FPS! That's 32x slower than standard speed. MediaTek offers brands powerful and intuitive editing tools that get the most use of the available hardware, giving the user total control over the slow motion effect with a great user experience.
Click here to learn more about Imagiq, and keep an eye out for upcoming 2017 products featuring our advanced Imagiq dual-camera technologies!
Sign up for our monthly newsletter
EXECUTIVE INSIGHTS | LATEST NEWS & EVENTS | PRODUCTS & TECHNOLOGIES