What is the Vision Processing Unit (VPU) powering Helio dual camera smartphones?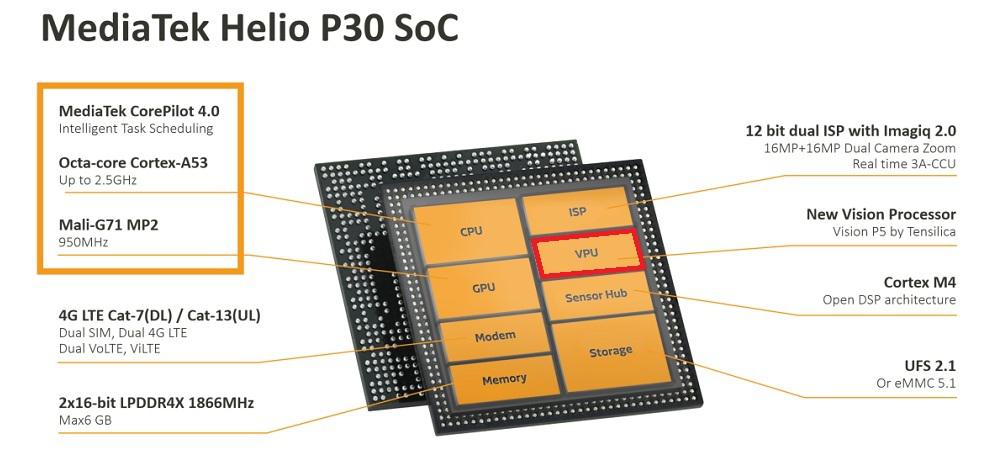 The new Vision Processing Unit (VPU) is a fast 500MHz DSP paired to the Image Signal Processors (ISP) within select MediaTek Helio SoC's. It provides a dedicated processing platform for numerous exciting camera features, like real-time Depth of Field, freeing up the CPU and GPU to save power and compute resource.
Key advantages
Programmability and Flexibility: The VPU provides a platform that allows brands the ability to customize camera functionality and drive product differentiation. MediaTek has already gathered considerable 3rd party application support, giving great product differentiation opportunity.
Huge Power Savings: The VPU is a dedicated camera-assisting hardware unit that can perform real-time processing functions. They were typically assigned to CPU or GPU before, but the VPU only uses a tenth of the power for the same task.
Performance Boost: The VPU can still be used in isolation or as part of a team with the CPU/GPU; a true heterogeneous computing environment on the same memory subsystem for advanced multi-application or multi-function tasks.
Where is it?
You'll find the VPU in MediaTek Helio P30 and Helio X30 powered smartphones
Sign up for our monthly newsletter
EXECUTIVE INSIGHTS | LATEST NEWS & EVENTS | PRODUCTS & TECHNOLOGIES