White Paper: Impact of Computer Vision Technology on Smart Cooking Appliances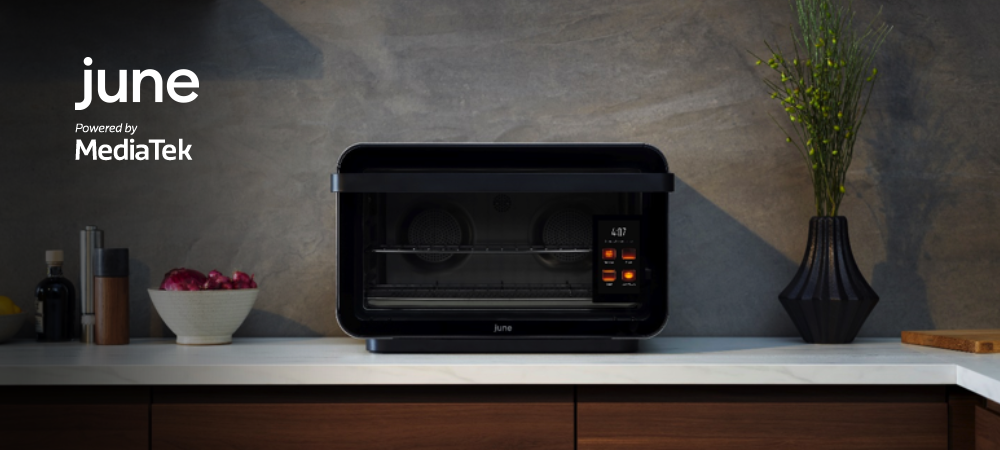 Summary
AI is on a rise in consumer & enterprise products
This White Paper profiles a disruptive new Smart Oven innovation by June
Computer Vision & AI technologies provided by MediaTek for June's smart oven
Long-term collaboration between June & MediaTek on cooking product category
Trends
Changing consumer expectations – In this era of Artificial Intelligence (AI), consumers are increasingly expecting more from the devices and services they use. For instance,
"The devices should sense more and act intelligently with least human intervention"
"Services should constantly be learning consumer behavior, environmental stimuli plus a whole host of other inputs and adapt accordingly to deliver the most delightful user experience."
Emergent technologies – Edge, Fog and Cloud Computing are all types of computing models that embody essential technologies to make AI happen in devices and services. These 3 models encompass the varying architectures ranging from simple sensors collecting and reporting all data to cloud for processing, to mixed-mode implementations wherein sensor data processing is distributed between smart edges and cloud. Smart edge is on a rise for good reasons of low latency, data privacy, reduced costs of data travel, and need for real-time processing. Chipsets are available plentiful to respond to all types of AI architectures now.
Improving home networks – The advent of Internet started in early 2000's and two decades later, Internet in homes has become table stakes. Pretty much all urban and suburban homes in US and developed markets have access to high-speed Internet service (50Mpbs download service or higher). The most recent crop of Wi-Fi routers allow connection with up to 200 smart devices in homes and this has helped significantly in fast take-up of AI services by consumers.
Coolness factor – AI yields cool results and consumers want cool devices & services. While non-AI devices & service counterparts also co-exist in the marketplace, it is only a matter of time when AI will win out and raise the bar for consumer behavior and expectations.
Introducing June Smart Oven
June is an innovative product company with the mission of making cooking perfectly easy for everyone. June collaborated with MediaTek on its new smart oven product called "June Smart Oven (3rd Generation)". June Smart Oven uses MediaTek's leading AI platform called i500. The i500 is a powerful "Computer Vision" platform designed for home or enterprise IoT products that need high performance edge processing, advanced multimedia capabilities, multiple high-resolutions cameras, connected touchscreen displays, and multi-tasking OS. Register your email address at https://juneoven.com/ to purchase a June Oven.

June Smart Oven Experiences
June Smart Oven is a revolutionary countertop oven designed for homes, offices and restaurants that upends the current state-of-art. It makes cooking incredibly simple and fun by utilizing Computer Vision and other AI technologies. Some differentiating use cases of June Smart Oven:
Automated Cooking - Food Recognition selects optimal cooking temperature and duration, Cook-Programs and Recipes that have been specifically designed for the June by June's Culinary Team and applies these instructions automatically.
Integration of voice-assisted technology - Alexa Voice Service. You don't even need to be in the kitchen or near your device to ask when June will be done cooking your dinner. This tool is especially helpful for an active community of visually impaired owners that can now cook with their June with the help of voice-assisted technology.
Cooking notifications via Wi-Fi can be sent to devices when cooking is almost complete and when food is ready.
Share video of food being cooked with friends and family - coolness factor and being able to showcase cooking skills.
Future
June's technology has the capacity to power anything in the home. June's first partnership was with Weber Grills – an unlikely pairing as most would expect a traditional oven to be the first partnership, but through this June proves that they can partner with iconic brands and apply their technology to legacy products to bring them into the 21st century.
About June
At June, the mission is to use the power of technology to make cooking perfectly easy for everyone. June was founded in 2013 by CEO Matt Van Horn, co-founder of ZimRide (now Lyft) and former vice president of business at Path, and CTO Nikhil Bhogal, the inventor of many of the Apple camera's technology patents. June is headquartered in San Francisco.
About MediaTek
MediaTek Incorporated (TWSE: 2454) is a global fabless semiconductor company that enables 1.5 billion connected devices a year. We are a market leader in developing innovative systems-on-chip (SoC) for mobile device, home entertainment, connectivity and IoT products. Our dedication to innovation has positioned us as a driving market force in several key technology areas, including highly power-efficient mobile technologies, automotive solutions and a broad range of advanced multimedia products such as smartphones, tablets, and digital televisions, 5G, Voice Assistant Devices (VAD) and wearable's. MediaTek empowers and inspires people to expand their horizons and achieve their goals through smart technology, more easily and efficiently than ever before. We work with the brands you love to make great technology accessible to everyone, and it drives everything we do. Visit www.mediatek.com for more information.
Sign up for our monthly newsletter
EXECUTIVE INSIGHTS | LATEST NEWS & EVENTS | PRODUCTS & TECHNOLOGIES