White Paper: Impact of mobile technology for Handheld PoS Device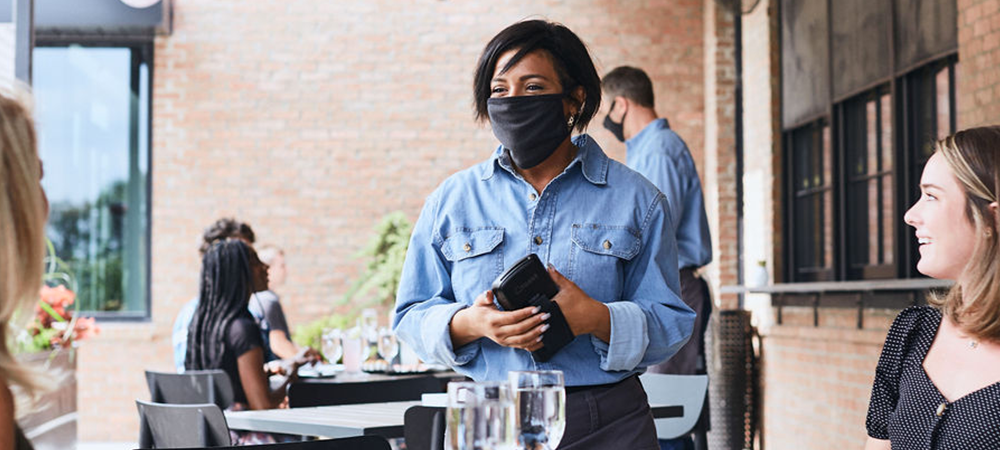 Changing consumer expectations – In the fast-paced restaurant business, cash transactions are declining and electronic means of payment are growing. A myriad of payment methods are available to consumers now ranging from debit and credit cards to store-specific apps (e.g. Starbucks) and electronic wallets from Google and Apple. The covid-19 pandemic has further reinforced the safety and importance of electronic payment methods in relation to cash. If cash was king, electronic is emperor.
"The PoS devices must be portable, quick in operation, touch less and require zero human interaction"

Changing restaurant business models – Restaurants are constantly pivoting their business models from dine-in, curbside pick-up & delivery service to offering promotions and gift cards to stay competitive and to drive sales. Restaurants are setting up online ordering systems and tying up with major delivery services (Doordash, Uber Eats, etc.) to survive the covid-19 pandemic. Consequently, payments are evolving fast in the restaurant industry shaped by these mega trends.

Adapting technologies to address evolving restaurant business – Catering to the diverse customers' needs of inside dining, outside dining, drive-through and curbside pickup is challenging for the business owners. This challenge is broadly addressed by providing restaurant businesses employees with a portable, mobile handheld PoS device. Running always on the latest Android OS that has all the latest security patches is critical requirement for a PoS device. The powerful edge-processing PoS device that can not only handle the payments, but become the platform that communicates with the back end kitchen and enables efficiencies for a business that thrives on fast and accurate turnaround of orders while reducing labor costs.

Introducing Toast Go® 2 PoS
Toast is an innovative product company with a mission to power successful restaurants of all sizes. Toast introduced Toast Go® 2, the first handheld point of sale platform designed specifically for the restaurant community. Toast Go® 2 PoS uses MediaTek's IoT platform called i500. The i500 is a powerful "Edge-Processing" platform designed for portable enterprise IoT products requiring long battery life, high performance processing, advanced multimedia capabilities, connected touchscreen displays, and support for multi-tasking OS such as the latest Android leveraging all security mandatory for a PoS mobile device. Toast Go® 2 PoS is now launched and available at
Toast Go® 2 Handheld PoS Experiences
Toast Go® 2, the handheld point of sale platform designed specifically for the restaurant community upends the current state-of-art. Inside, outside, drive-through, curbside - Toast Go® 2 mobile handhelds are fast, safe, flexible and ready to help your restaurant business adapt.
Some examples of the efficiencies achieved by adopting Toast Go® 2 Handheld PoS -
Offer Curbside along with curbside pickup Payment
Offer no touch pay, so your guest's credit card never leaves their hands
Whether you're offering takeout or pickup, bring the POS right to your guests to order and pay
With digital receipts there's no pen or paper to touch
Simplify kitchen operations to reduce unnecessary contact and streamline service by assigning each employee their own Toast Go® 2 mobile handheld
Cut down wait times and crowded lines by taking orders before guests get to the counter
Minimize human touch points by reducing your team's shared use of terminals
Notify the FOH when an order is ready with alerts sent straight from Toast KDS to Toast Go® 2
Reduce labor costs while retaining your best employees

More guests per server = more tips, keeping your best staff happy
On-screen tip suggestions increase tips even further, which makes holding onto your best employees easier
No one has to waste time manually entering tips since they go straight to the system
Future
As the restaurant business grapples with the pandemic, it has become paramount for the restaurant industry to rely on technology that enables them to adapt to the changing business models. Toast has not only become the leading cloud-based restaurant management platform, Toast Go® 2 mobile handheld devices along with their software technology go a step further in providing the restaurateurs the ability to delight their guests, do what they love, and thrive. A single portable, mobile and secure device with a path to an upgradable OS is essential to the smooth running of the entire gamut of restaurant operations while achieving higher efficiencies.
About Toast
At Toast, the mission is to power successful restaurants of all sizes. The primary goal is to build products such as Toast Go® 2 that creates an experience that best serves all aspects of our restaurateur's customers.
Headquartered in Boston, Toast was founded in 2011 and launched in 2013 by President & Co-founder Aman Narang, CTO & Co-Founder Jon Grimm, and President & Co-founder Steve Fredette. Focused on the restaurant industry from the start, today Toast powers tens of thousands of restaurants across their growing Toast Community.
About MediaTek
MediaTek Incorporated (TWSE: 2454) is a global fabless semiconductor company that enables 1.5 billion connected devices a year. We are a market leader in developing innovative systems-on-chip (SoC) for mobile device, home entertainment, connectivity and IoT products. Our dedication to innovation has positioned us as a driving market force in several key technology areas, including highly power-efficient mobile technologies, automotive solutions and a broad range of advanced multimedia products such as smartphones, tablets, and digital televisions, 5G, Voice Assistant Devices (VAD) and wearable's. MediaTek empowers and inspires people to expand their horizons and achieve their goals through smart technology, more easily and efficiently than ever before. We work with the brands you love to make great technology accessible to everyone, and it drives everything we do. Visit www.mediatek.com for more information.
Sign up for our monthly newsletter
EXECUTIVE INSIGHTS | LATEST NEWS & EVENTS | PRODUCTS & TECHNOLOGIES