Why NB-IoT is the best answer to the 5G LPWA future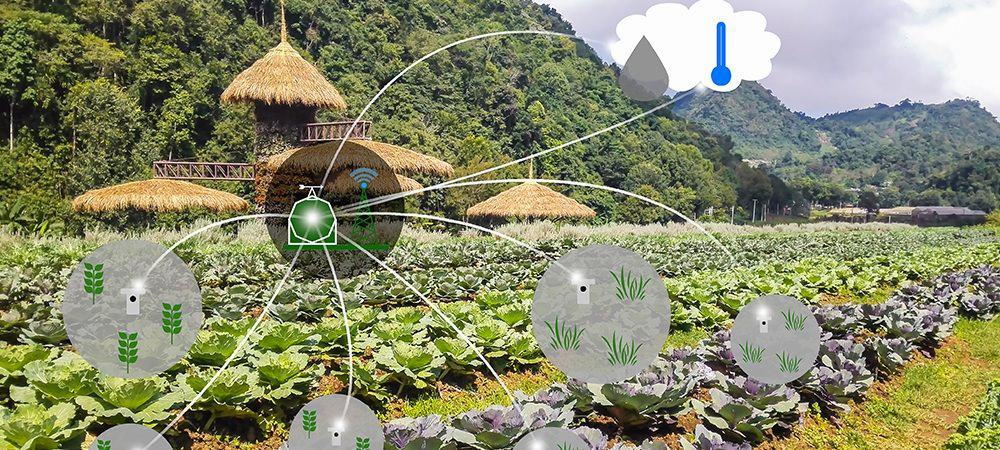 The 5G generation is already here! You see, 5G isn't just for smartphones, it covers a wide range of applications, which can be attributed to two parallel directions of wireless network coverage: one enables ultra high bandwidth with short-range, directional communication, and the other covers a wide area and uses ultra-low power.
Ultra high speed bandwidth network makes the transmission of high data rate and ultra low latency finally becomes feasible, exceeding even landline broadband performance. Because such high performance requires a very complex modem and high power consumption, it will mainly used in personal or large devices such as vehicles.

Low power wide area networking (LPWA) is the blanket description being used for future IoT connectivity infrastructure, where a large number of low power devices are placed virtually anywhere, even in previously unimaginable locations. The potential of this large-scale device roll-out can bring huge commercial value, but it's not without its challenges; there are potentially a huge variety of IoT applications, some of which will be deployed for many-year periods and require almost zero manual interaction or maintenance. This will require a resilient design powered often by battery throughout its install period. Existing commercial carrier infrastructure (2G/3G/4G) and unlicensed frequencies such as Wi-Fi are unable to cope with the needs of potentially billions worldwide of devices.
After the initial stage of research and discussions regarding how to reuse available network space to best accommodate the IoT future, wide area networking technologies gradually divided into two groups.
One focuses on the unlicensed spectrum of Lora and SigFox, the other operates within the licensed spectrum areas of 2G/3G/4G mobile technologies and is supported by 3GPP as LTE-Cat-M and NB-IoT.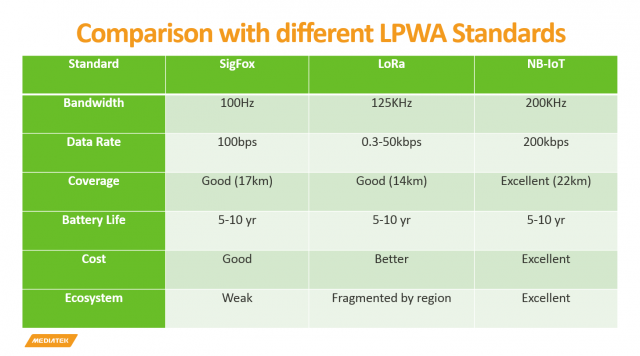 In the standards competition, Lora and SigFox have already been running for several years, so there are existing advocates using the technology, however, it relies on the use of unlicensed spectrum to support its service. As such, this technology cannot effectively appeal to a global audience. But the limitations of Lora and SigFox are more significant than this; with data security, network construction costs, supporting industry verticals and network coverage lacking versus the 3GPP alternatives. Simply: the 3GPP LPWA technologies can reach more customers, with less cost, and with greater scale and support.
With the march of evolution in telecommunications standards, the retirement of older GPRS/GSM technologies has given a timely opportunity for LPWA networking to reuse this space. In this area, 3GPP technology has three main standards: LTE Cat-M, EC-GSM and NB-IoT. All these technologies have a significant advantage over Lora and SigFox, with clever (re)use of globally licensed spectrums. Despite starting later, 3GPP LPWA is expected to both limit and replace earlier developments of the Lora or SigFox market.
LTE Cat-M is predominantly focused on Machine-to-Machine (M2M) devices and as the name suggests will work through use of the existing 4G LTE spectrum, offering the option of larger bandwidth at the expense of higher power use and less range compared to the other LPWA technologies. In comparison, NB-IoT requires much simpler hardware than LTE Cat-M; the memory requirement is lower, and the modem and RF complexity is less. This allows a much more cost-focused product that can be scaled easily for large deployments.
Alternatively, EC-GSM (Extended Coverage-GSM) is solely based on upgrading the traditional 2G GSM technology for IoT applications. Like NB-IoT it also uses a narrow band (200 kHz) networking technology, while offering broader coverage than traditional GPRS 20dB. But the original GSM communication protocol is outdated and needs to be redefined in order to achieve a 'clean' communication environment that can efficiently support thousands-thru-millions of connected devices. The result of this clean-slate rethinking is NB-IoT.
As such, NB-IoT is regarded as the dominant force in LPWA networking. It can achieve the five crucial demands of the IoT-era:
Enhancing the performance of indoor coverage and bring coverage to making previously unconnectable areas
Support a very large scale of connections,
Reduce equipment (modem predominantly) complexity,
Minimize power consumption
Reduce time delays.
NB-IoT, as a global telecom grade coverage technology, is superior to other technologies in low power consumption, low cost, wide coverage and greater reach. Coupled with a breakthrough in the amount of data transmission, NB-IoT is already gaining increasing support from telecoms operators. We have observed that speed of NB-IoT network construction is already being accelerated in different regions.
As the core NB-IoT standardisation process completes very soon, silicon device makers, like MediaTek, are actively cooperating with global network operators to field test deployments in readiness. With such a commitment of support, the NB-IoT industry chain will mature fast, truly uncapping the potential of IoT.
Sign up for our monthly newsletter
EXECUTIVE INSIGHTS | LATEST NEWS & EVENTS | PRODUCTS & TECHNOLOGIES