Pumpkin Software
Single SDK for multiple hardware platforms | Quarterly releases with OTA
BayLibre is MediaTek's IoT software scaling partner for North America and Europe. BayLibre develops and maintains Linux and Android SDKs for MediaTek IoT Wi-Fi solutions. Based on the latest industry standards, the SDK's also integrate key technologies from third party software companies to accelerate the time to market for customers. BSP drivers are pushed to mainline Linux Kernel for long term support, which is critical in this market. IoT SDK pre-built images are available upon request.
MediaTek and BayLibre, along with a wider IoT ecosystem, provide the recipe and tools to bring your innovation to market. From concept, all the way to mass production, we have a solution for your needs.
Linux
Android
Linux distribution built with Yocto
Mature support for VAD market
Modular design scales to many other product categories
ROS Integration Available
Android 10
Android & Yocto Linux share software, ex. VAD functionality (Alexa)
Monthly security bulletins
Flexible Software Architecture
Have a preferred plug-in? Not a problem.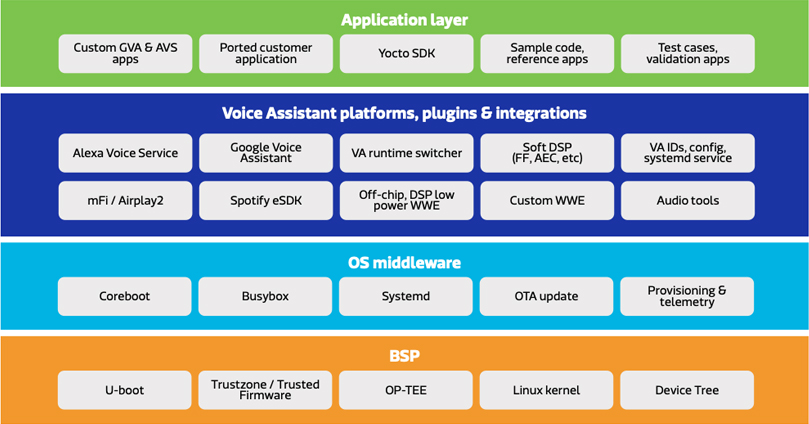 Design Services
Provided by BayLibre
Software customization & support
From concept and part-selection phase through post-launch / OTA
Board bring-up, validate HW design, work with CM on flashing/provisioning
Engineering-to-engineer collaboration with customer application developers, AI/ML teams, designers, etc
Able to provide or own Project Management or leverage OEM resources