MediaTek Genio 500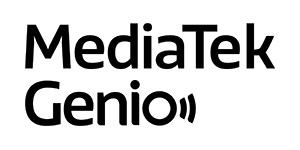 The MediaTek Genio 500 is a highly capable and efficient IoT platform designed for mobile, home, or commercial IoT applications that require responsive edge processing, advanced multimedia capabilities, multiple high-resolutions cameras, connected touchscreen displays, and a multitasking OS.
In-chip AI processor
It's in-chip AI processor (APU) offers 0.75TOPS performance for deep learning, neural network acceleration and computer vision applications. The latter, combined with up to 25MP camera, can clearly and accurately perform AI-camera applications such as facial recognition, object identification, scene analysis, OCR and much more.
Highly Capable Performance for Yocto Linux and Android OS
The chip integrates octa-core CPU with 4X Arm Cortex-A73 and 4X Cortex-A53 processors, equipped with NEON engines, a large 1MB L2 cache and with operating frequencies up to 2GHz. This capable CPU complex supports the latest Yocto Linux and Android and applications such as web browsing, email, GPS, office productivity and navigation.
An Arm Mali-G72 MP3 GPU operates up to 800MHz and provides 3D-graphics acceleration opportunities through support for Open GL ES 3.1, Vulcan 1.0, and OpenCL 3.0.
Flexible storage and memory options give product designers freedom to customize and innovate, while Arm TrustZone security enables the creation of secure devices.
Extensive Connectivity & Interfaces
Support for fast Wi-Fi 5 and BLE 5.0 wireless is included, plus an extensive set of interfaces for further connectivity and peripherals.
Advanced Multimedia
Advanced Full HD multimedia encoding/decoding engines plus hardware-accelerated, dual-camera arrays make the MediaTek Genio 500 ideal for human-centric applications like streaming audio or video services, simultaneous voice and vision such video recording or real-time face-to-face video conferencing. High resolution displays provide sharp detail in a high quality user experience.
Highly Integrated Design
Its extensive technology integration, small footprint and low power consumption allows a wider potential device design scope through greatly reduces the PCB layout resource, reducing development costs and accelerating time to market.
Platform Certifications
Specifications
Application Processor
CPU Type
Arm Cortex-A73
Arm Cortex-A53
CPU Frequency
Up to 2.0GHz
Graphics Processor
GPU Type
Arm Mali-G72 MP3
Display
Max Display Resolution
2400 x 1080
Video Processing
Recording Resolution
1920 x 1080
Video Decoding
H.264
H.265 / HEVC
MPEG-1/2/4
Peripheral Interfaces
IO
I2C
I2S
LVDS / MIPI
MIPI CSI-2
SPI
USB
Wireless Connectivity
Wi-Fi
Wi-Fi 5 (a/b/g/n/ac)
Wi-Fi Frequencies
2.4GHz, 5GHz
Bluetooth
5.0 (Low Energy)
4.2 (Low Energy)
GNSS
GPS
Glonass
BeiDou
Galileo
QZSS