MediaTek Helio P22 Launches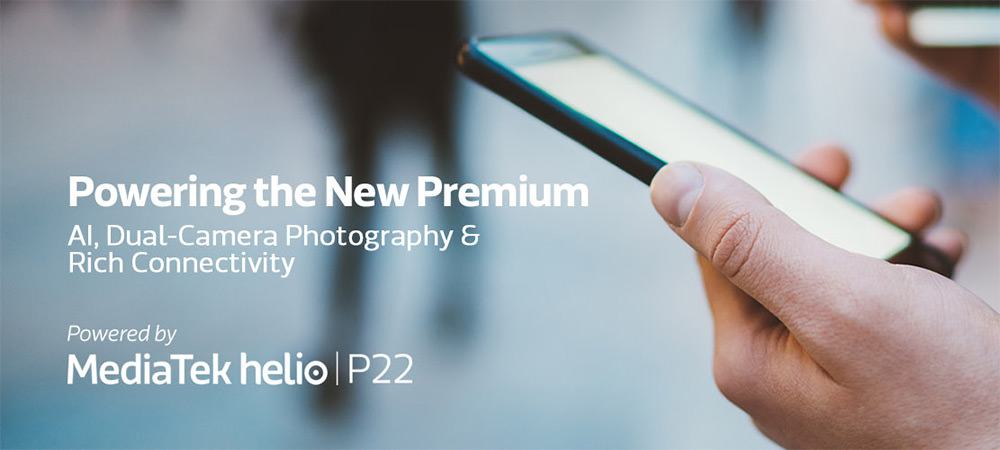 The new Helio P22 enables stunning, all-screen smartphones with up to 20:9 ratio HD+ (1600 x 720) resolution displays that offer a great balance between sharpness and power-efficiency.
Inside the SoC, a new IMG PowerVR GE8320 GPU is matched to a powerful octa-core ARM Cortex-A53 CPU. Device manufacturers can choose between LPDDR3 or LPDDR4x memory depending on their approach to price and performance for the desired smartphone.
The core performance hardware is, as usual, controlled by MediaTek CorePilot technology, which provides power aware scheduling, thermal management and UX monitoring. It assigns the right workload to a number of cores at a specific frequency and voltage. This perfectly matches the required performance with best power efficiency to provide a sustained high-performance and consistently reliable user-experience.
All this is wrapped together using TSMC's latest 12nm FinFET production process; a significant generational upgrade for mainstream devices.
Loaded with premium camera tech
Helio P22 smartphones can be fitted with up to a 13+8MP dual camera or a 21MP single camera system, which is backed by a twin, power-efficiency focused ISPs. Like all Helio chips, its more than the 'big (MP) number on the box' though as there's extensive, hardware-baked advancements built in to its camera credentials.
For starters, a new hardware depth engine can capture professional-grade Depth of Field (Bokeh) effects in stunning photos: whether it's using just one, or two cameras.
MediaTek's Electronic Image Stabilization (EIS) has been upgraded with a new Rolling Shutter Compensation (RSC) engine, which when combined together, cleverly mitigates warped ('jello effect') video when capturing fast action or panning.
In-line with the existing MediaTek Helio P series, the new P22 has incredible low-light performance, multi-frame noise reduction and a clear-image zoom technology.
The Imagiq suite includes enhancements that automatically minimize aliasing, grain, and provides defect/distortion correction techniques. 3A includes MediaTek's Instant Auto Exposure (AE): anti-over exposure hardware with accurate point focusing. The Instant AE is powered by a hardware Camera Control Unit (CCU) that delivers considerably faster focusing exposure adjustment when environmental lighting conditions change suddenly.
AI-enhanced
It wouldn't be a 2018 smartphone chip without packing significant AI-cred. The Helio P22 is ideal for light AI-enhancements such as Face ID (Face Unlock), smart-tagging photo albums, live beautification (via selfie camera), fun AR photo stickers, enhancing Bokeh effects and much more. As a Helio P series it's Perfect for bringing Premium experiences to affordable smartphones.
It's AI is backed by MediaTek NeuroPilot, which allows developers and device makers have the best possible ecosystem that supports many common AI frameworks, and full compliance with Android Neural Networks API (Android NNAPI).
Dual 4G SIM support
Dual 4G SIM support is becoming increasingly more vital as global carriers either increase 4G data-caps, are data-only and/or users demand high-quality calling and f2f video. Following our Dual 4G SIM launch last year, the Helio P22 is yet another chip equipped with dual 4G SIM (DSDS).
The 4G LTE WorldMode modem has maximized capability with HUPE, IMS (VoLTE\ViLTE\WoWi-Fi), eMBMS and Band 71 (600MHz) support. MediaTek's TAS 2.0 smart antenna technology makes sure of the best signal quality and lowest power use.
Dedicated GNSS sub-processor
A new, dedicated sub-processor and core GNSS location enhancements give the Helio P22 a 57% improvement in Hot TTFF and 10% accuracy improvement, while also being up to 24% lower power. The P22 also has support for 4-Satellite multi-GNSS (GPS, Glonass, Beidou, Galileo) as well.
Rich Smart Home connectivity
For the latest Smart Home devices, Bluetooth 5 is available sporting up to 2X speeds and 4X range and 8X broadcast capacity over the previous generation. BT and Wi-Fi (now 802.11ac) simultaneous co-existence can provide up to 5X Wi-Fi throughput boost over the previous generation.
Sign up for our monthly newsletter
EXECUTIVE INSIGHTS | LATEST NEWS & EVENTS | PRODUCTS & TECHNOLOGIES