MediaTek HyperEngine boosts every aspect of smartphone gaming because every millisecond matters. In its 5th generation, gamers benefit from low-latency 5G and Wi-Fi connections with intelligent multi-network balancing; attuned resource management that boosts and sustains FPS while also maximizing battery life; and new AI-based imaging enhancements to make use of MediaTek's powerful APU.
Smartphones can now offer hardware and software tuning parameters, allowing users the freedom to choose the level of gaming performance and power savings via tools such as Frame Rate Smoother, Smart Resource Optimization, AI-VRS, MediaTek Intelligent Display Sync 2.0, in addition to more traditional image tuning options.
Resource Management Engine
AI-VRS – AI-based Variable Rate Shading – uses AI processor assistance to perform Dynamic Region of Interest Rendering. This analyzes and identifies focal areas of in-game details or motion, then selectively reduces render quality in non-focal areas, improving power efficiency by up to 10%.
Smart Resource Optimization for CPU and GPU threads improves the opportunity for multi-core computing, improving power efficiency by 8% on average.
Frame Rate Smoother ensures a smoother in-game experience that avoids FPS dips, stuttering and jitter. By managing the SoC to assure a target FPS the gameplay remains fast, responsive and smooth, while the smartphone benefits from being notably cooler, and the gameplay lasts even longer.
Picture Quality Engine
Introducing the world's first Hybrid AI-GPU Super Resolution for gaming on Android. Combining the capability of the GPU and APU together, the AI processors perform intelligent resolution upscaling and image quality enhancements, freeing GPU resources for more performance or power savings.
MediaTek Ray tracing SDK for Android game developers is now available. It provides access to the first AI-based denoiser for ray traced lighting, improving the finally rendered image. As the first Vulkan-based SDK available, developers can easily take advantage of AI-GPU to remove any specular irregularities produced by their ray tracing algorithms.
Network Engine
By connecting a smartphone featuring a MediaTek Wi-Fi Fast Path enabled chipset, such as the Dimensity 9000, to home routers powered by MediaTek Filogic 830 Wi-Fi 6/6E platforms, gaming-related Wi-Fi streams can be prioritized for up to 3X 44% lower latency connections, even in heavily congested networking environments.
Smart Wi-Fi Antenna 2.0 dynamically detects signal quality and adjusts the antenna use according to the most optimum attainable signal, bettering the Wi-Fi connection when the smartphone is used in a gaming (horizontal) orientation.
Wi-Fi / Bluetooth Hybrid Coexistence 2.0 makes the best use of two multiple Wi-Fi antennas to intelligently blend in Bluetooth signals, ensuring Wi-Fi retains performance even when Bluetooth headsets and peripherals are connected simultaneously. Wi-Fi latency is reduced up to 68% compared to non-hybrid designs while using Bluetooth headsets for in-game voice chat, making phone calls, streaming game audio or playing using wireless gamepads.
5G Modem Express enables users to add their favorite apps and games to an allowlist that prioritizes these network connections and data packets.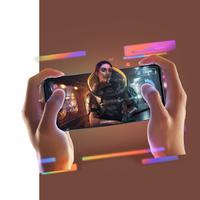 MediaTek Intelligent Display Sync 2.0 is dynamic technology that intelligently adjusts the display refresh rate according to the game frame rate detected, ensuring you get smooth viewing experiences in the most intense action or in need of the most responsive scenarios, rather than when you're watching a cut-scene, selecting loadout or changing map.
Gamers will benefit from the most immediate GPU-to-display pipeline ever, ensuring an edge on the competition where millisecond reaction times make the difference. On occasions where the GPU cannot generate FPS to meet the maximum display refresh rate, MediaTek Intelligent Display 2.0 Sync will adjust the refresh rate in real-time to meet GPU performance, while also managing the GPU-to-display pipeline to virtually eliminate inter-frame latency.
Bluetooth 5.3
Bluetooth 5.3 with LE Isochronous Channels using the latest LC3 encoding gives users Bluetooth LE Audio-ready technology with Dual-Link True Wireless Stereo Audio. Fusing MediaTek's technology and LC3 encoding gives Bluetooth headphones 2X more bandwidth for better sound quality in gaming, media playback and voice calls versus older mSBC encoding, while also reducing latency up to 32%.