Improving the Mobile User Experience with CorePilot
CorePilot doesn't just make smartphones perform better, it aims to create the best user experience possible every time you use it. It's a set of advanced monitoring, task scheduling and performance optimization technologies we use for MediaTek Helio processors. CorePilot improves the experience of everything; from simple browsing through social media to the most intense mobile gaming. CorePilot 4.0 is our latest, overseeing all the hardware we've managed to cram into our tiny-but-mighty MediaTek Helio SoCs.
CorePilot Technology Evolution
First introduced in 2013 with the world's first "True Octa-core" processor and now in its fourth generation, CorePilot governs task management, which started simply across processor clusters and has evolved to dynamically managing a diverse set of hardware resources and processing pools across the breadth of our MediaTek Helio SoCs.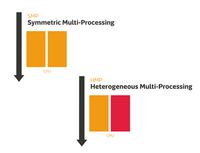 CorePilot 1.0
True octa-core with SMP
big.LITTLE HMP
Global Task Scheduling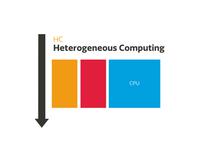 CorePilot 2.0
CPU+GPU Computing
Dynamic task management between all compute resources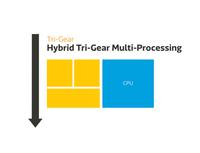 CorePilot 3.0
Tri-Cluster CPU architecture with 12%~38% energy saving over previous dual-cluster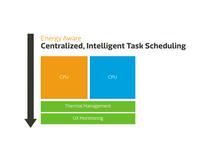 CorePilot 4.0
Thermal Management
UX Monitoring
How people use their smartphones has evolved. Modem users perform a host of computing tasks on mobile devices that require a wide range of computing power. Modern computing frameworks must be nimble – capable of handling this range of tasks with an appropriate mix of computing strength and battery life. And, we've evolved CorePilot in step with the users.
CorePilot 4.0 introduces a centralized, intelligent task scheduling solution that can highly optimize the use of the SoC compute resource. For example, it dispatches tasks to suitable clusters/cores with the appropriate frequency and voltage, to minimize power use while still ensuring the expected user experience is met.
Centralized, Intelligent Task Scheduler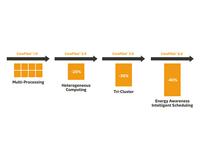 It works closely with Thermal Management and User Experience (UX) Monitoring to further reduce battery power consumption by ensuring a sustainable performance to provide an expected experience at all times.
Based upon input from these control mechanisms, the right core(s), cluster(s) and frequencies/voltages are selected for the current application load. This provides a consistent and sustained user experience, but with maximum battery life.