Custom ASIC for Consumer Electronics

Continuous customer success stories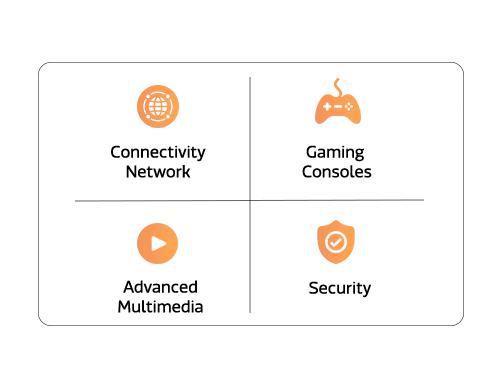 Consumer ASICs
MediaTek's Consumer ASICs are known for their performance, efficiency, connectivity, multimedia capabilities, and customization options, making them a leading choice in the semiconductor industry.
These chips integrate multiple hardware components, use power efficient packaging technologies, support various wireless communication technologies, provide advanced multimedia features, and prioritize security, making them a compelling choice for device manufacturers looking to build innovative and differentiated consumer products.
MediaTek's Consumer ASICs are custom-designed chips that offer high-performance, low-power, and cost-effective solutions for a wide range of consumer electronic devices, such as smartphones, tablets, smart TVs, wearables, gaming consoles, and more.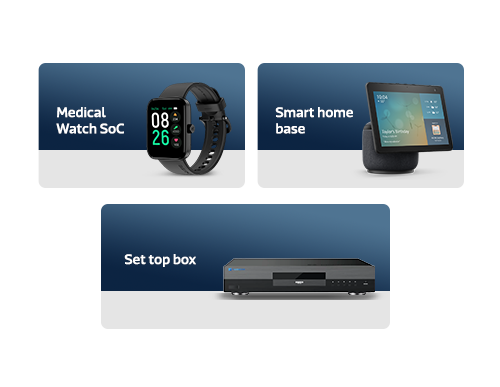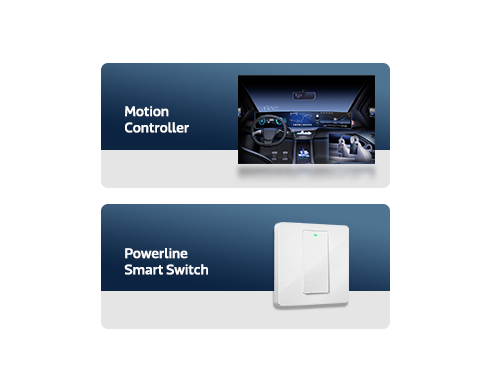 Ideal for companies seeking custom ASIC solutions for differentiation and uniqueness
Why Choose MediaTek?
MediaTek is an ideal partner for enterprise companies seeking custom ASIC solutions. Now over 25 years in business, we have grown to become the world's 5th largest fabless semiconductor company. We're capable of building high quality, highly performance efficient ICs at large volumes that can be shipped globally.
Pick from a range of chip building blocks like CPUs, GPUs, AI, multimedia, display processors, camera ISPs, wireless and wired connectivity, or supply your own, then create high quality, high-performance ICs using advanced packaging, at volumes small-to-large, through our extensive partner ecosystem.
Extensive expertise in cutting-edge chip design
Very broad IP portfolio
Demonstrated time-to-market delivery
Active involvement and commitment to global technology standards
Deep ecosystem with global reach
Over 7,000 Patents
Over 2 billion products sold annually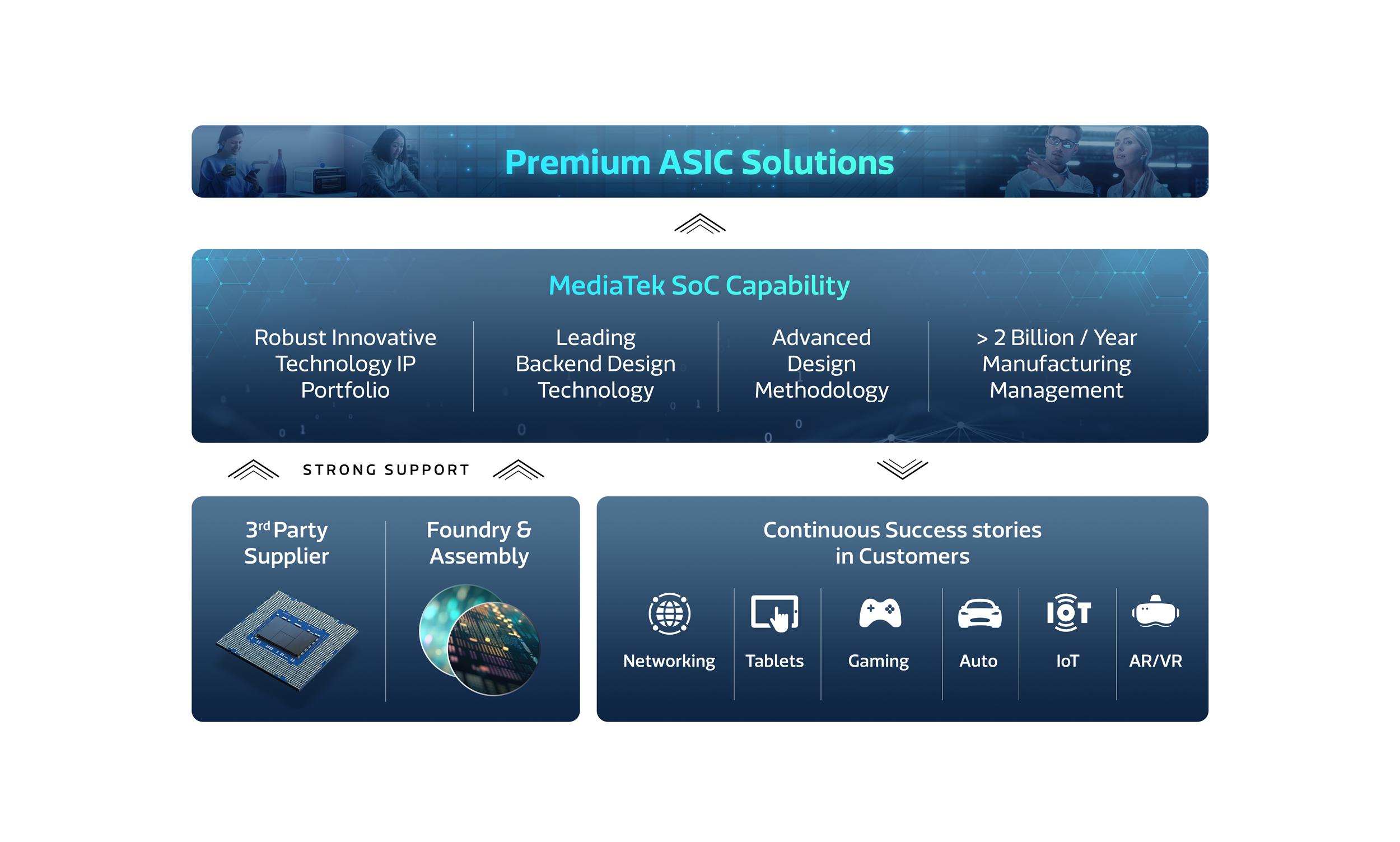 Create Consumer ASIC Solutions with MediaTek
From concept through support, MediaTek has you covered.
The Process
Feasibility Study
Understanding and working to enable your idea, even for high-performance designs in highly power constrained situations, and unique environmental operations or use-cases.
Project launch
Spec the solution and bring together IP elements from MediaTek and 3rd party suppliers.
Development
Creating your ASIC with the skills of our world-class engineers. MediaTek provides expert support for ASIC design, testing, and validation, which can help companies reduce time-to-market and ensure product quality.
Manufacturing
MediaTek has extensive partnerships with all leading suppliers in the SoC manufacturing chain; from foundry partners, to assembly, packaging and testing. If customers have preferred partners, this requirement can be accommodated.
Packaging
Support for monolithic SoC, MCM or SiP designs, using 2D, advanced 2.5D or the latest 3D packaging technologies enables the widest possibility of cutting-edge chip designs.
Logistics
Business scale global shipping in reliable supply channels.
Longevity & Support
MediaTek ASIC solutions are designed for long-term use, with a focus on reliability and durability, which can help companies avoid costly redesigns and replacements.
Meeting the Challenges of Your Application
Consumer Electronics products are often required to meet a wide variety of challenges, depending on their end-user application. MediaTek is an expert in maintaining high-performance and low latency in power constrained situations, and can actively balance a multitude of compute elements within an SoC in response to user behavior.
MediaTek has expertise to design ASIC solutions for CE devices using Arm Cortex CPUs, advanced graphics IP, high performance on-chip/inter-chip interconnects, large embedded SRAM, accelerators for multimedia, cameras and displays, and diverse memory and storage options. We are also one of the few global semiconductor companies to offer comprehensive wireless connectivity IP that includes Bluetooth, Wi-Fi, global cellular, LPWAN, and satellite.
Customization Potential:
Data Encryption / Decryption
Data Compression / Decompression
Heterogeneous Compute
Multimedia Accelerators
Network Packet Processing
AI / ML
SRAM, LPDDR5, DDR5, HBM, and more
Advanced interconnects
Wide-ranging I/O options including PCI-Express, USB, MIPI, UFS, SPI, GPIO, and many others
Ethernet, Global Cellular, Satellite, Wi-Fi & Bluetooth Connectivity
Custom IP blocks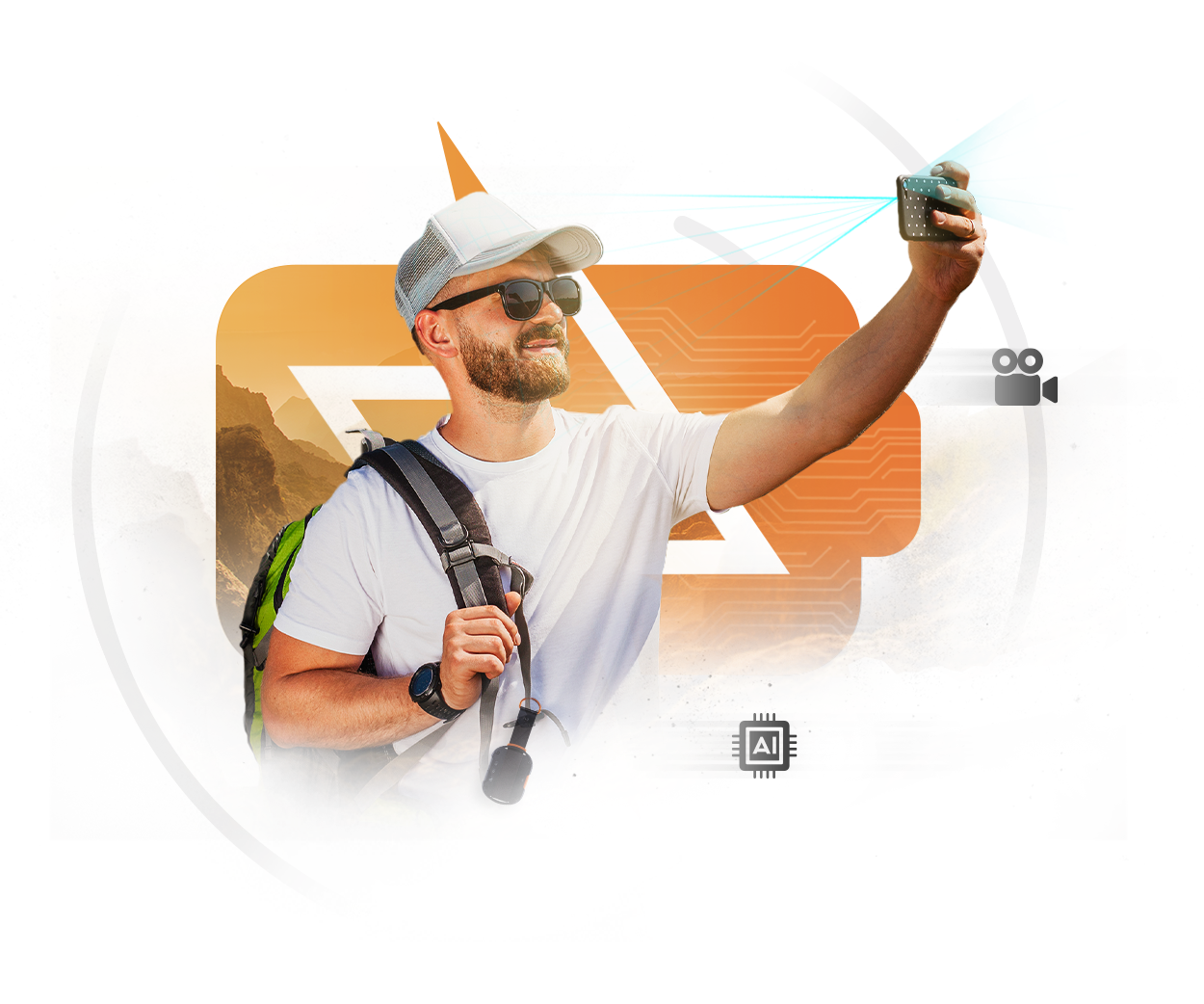 Power Consumption
With our expertise in mobile products, our innate understanding of power efficiency maximizes performance per watt, and performance per dollar. MediaTek's ASICs solutions are designed to be exceptionally power-efficient and are ideal for battery-powered devices, expending energy to precisely meet user experience expectations, which can reduce power consumption compared to general-purpose platforms.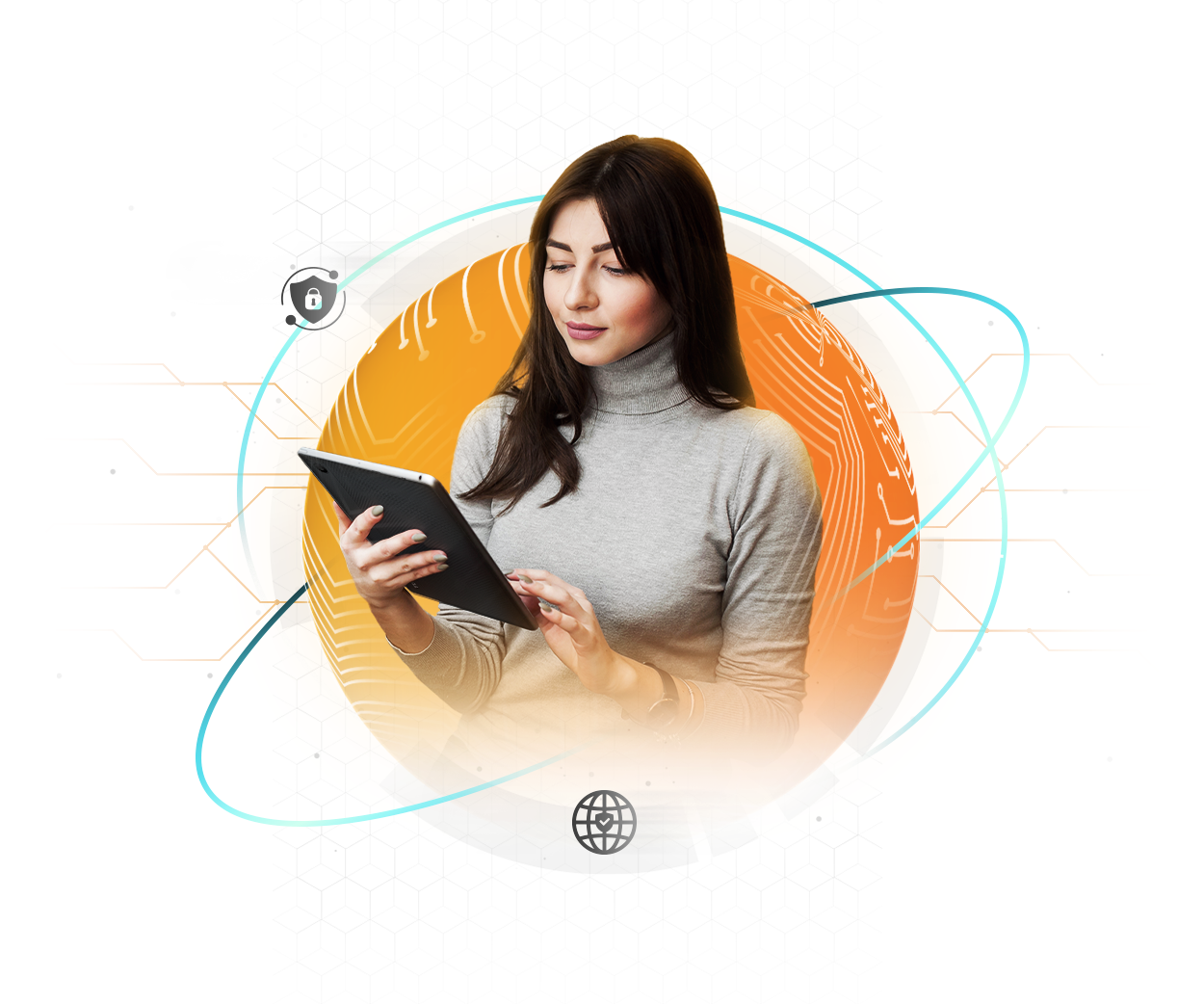 Security
MediaTek can accommodate cryptographic IP from trusted sources and partners, allowing ASIC to be designed with built-in security features that meet specific designs, such as encryption/decryption or authentication, to help protect against potential security threats. Unique and novel solutions are fundamentally more difficult to attack than common processor platforms.
Accommodate custom security IP
Commitment to secure products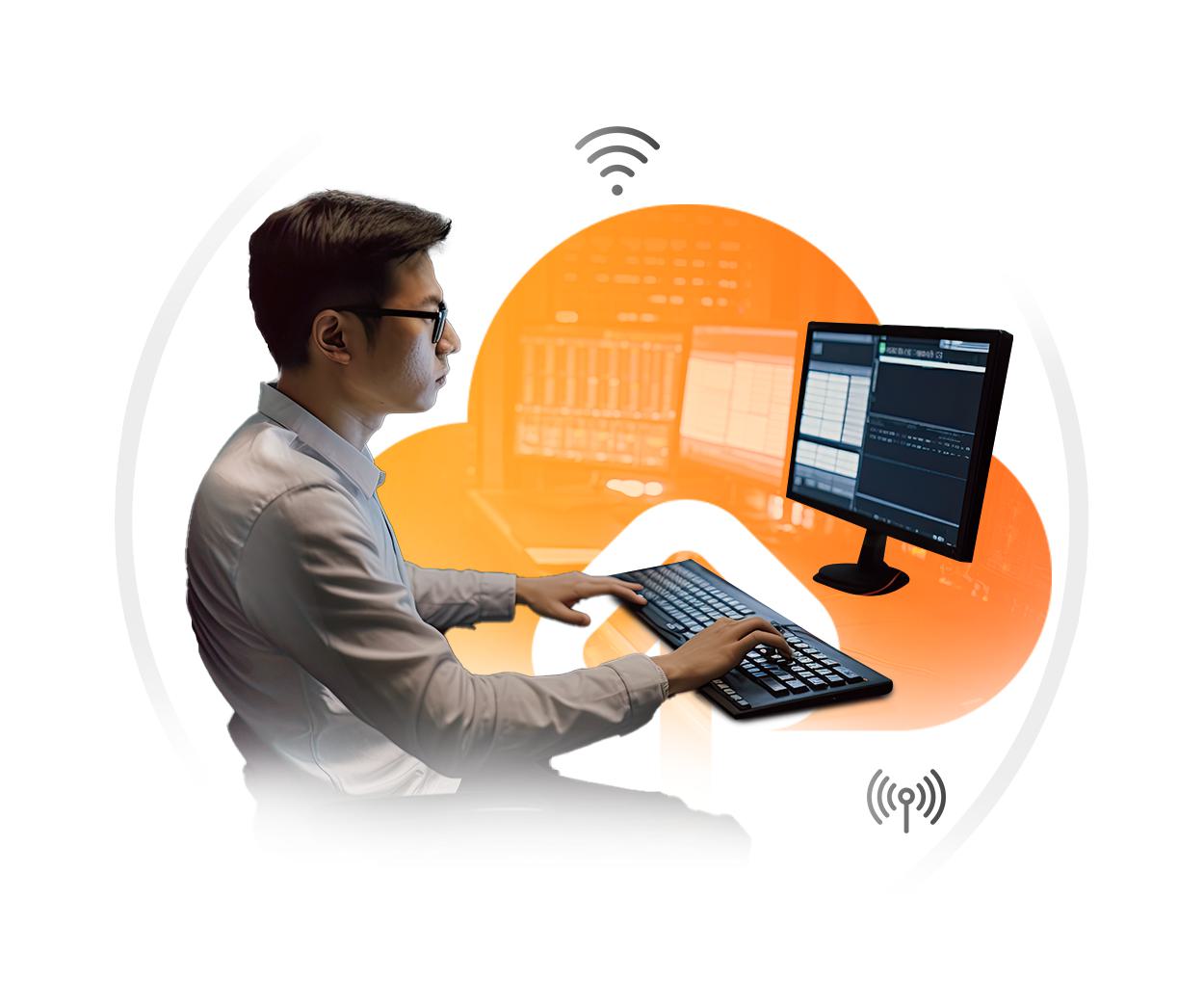 Workload Optimization Potential:
Mobile and battery-powered products
Multimedia streaming | (Multi) Camera devices
Edge-AI or hybrid edge/cloud processing
Heterogeneous processing: CPU, AI and GPU blended tasks
Voice and visual processing
Wall-size to wrist-size display-centric applications
Whole home entertainment, IoT, and connectivity
Seamless hybrid connectivity
In-vehicle technologies maximizing EV range
Optical disc for archival storage and entertainment
Advanced Packaging
The choice of chip packaging is crucial to leading-edge chip design. MediaTek's assured supply chain and partner ecosystem can accommodate monolithic silicon die designs with the ability to accommodate a single large area, and multi-chip module using various 2D, 2.5D or 3D layering on active or passive packages. Our extensive expertise allows us to meet a wide array of challenges in layout, yield, power consumption and thermal design at the initial feasibility and design stage, ensuring the optimal direction is selected from the very start.
Leading expertise in performance, power, thermal & cost factors
SoC, SiP, MCM chip design
2D, 2.5D, 3D chip design
Active/passive packaging
Longevity and Support
With a commitment to contributing to global technology standards, our deep partner ecosystem and global sales reach, MediaTek has a long track record of demonstrating successful time-to-market delivery while pursuing all client environmental and sustainability targets. Collaborating with us on a project ensures a long-term commitment and support to ensure your success.