Rich IoT
Innovation in Voice, Display, and AI Vision categories
MediaTek's Rich IoT program features a series of AI-supported chipset platforms that are enabling companies to innovate and develop products across the breadth of intelligent devices market. As the market leader of chips for voice assistant devices (VAD), we work with the world's most well-known brands to power intelligent devices, such as smart speakers and sound bars. MediaTek's Rich IoT program is spurring AI innovation with its platforms that enterprises, startups, emerging brands and leading OEMs in diverse markets can use; designing a wide range of IoT devices with edge-AI capabilities, new user experiences and addressing new market opportunities.
MediaTek's Rich IoT program is targeted at three primary segments:
1. Voice Enabled Devices
Products with voice assistant capability like smart speakers, kitchen and cleaning appliances, smart locks and more.
2. Display Oriented Devices
Smart hub products or those that require touchscreens displays like thermostats, head-mounted displays, point of sale terminals, exercise equipment and more.
3. AI Vision Devices
Products that need to recognize objects or people, like smart security systems, smart ovens, robots, drones and more.
MediaTek Solutions
Proven chipset hardware supporting open industry-standard software
Features
MediaTek's Rich IoT chipsets are highly integrated, with ultra-low power consumption to maximize battery life and deliver superior computing power (including CPU, GPU and AI Processing Units) to enable next generation Rich IoT devices.
The chipsets have Arm's TrustZone security built-in and come with long term support for operating system updates and security patches.
Long Term Support
MediaTek is providing sales and technical support for the above-mentioned SoC parts for 7 years. The i300B, i300A and i500 are functionally as well as pin-and package-compatible with MT8516, MT8167S, and MT8183 respectively. The companion power management MT6392 and connectivity MT7668 chipsets remain unchanged. For SoC supply and technical support for the long-term, customers are advised to adopt the above-mentioned parts.
Hardware Evaluation Kit
Introducing "Pumpkin" with i300B and i300A (i500 Coming Soon)
Software Releases
Source access available (no vendor lock-in) & quarterly release model with OTA capability
Rich IoT Yocto (RITY) Linux
Android
Linux distribution built with Yocto
Mature support for VAD market
Modular design scales to many other product categories
ROS Integration Available
Android Pie (Version 9)
Android & RITY share software, eg. VAD functionality (Alexa)
Monthly security bulletins
Flexible Software Architecture
Have a preferred plug-in? Not a problem.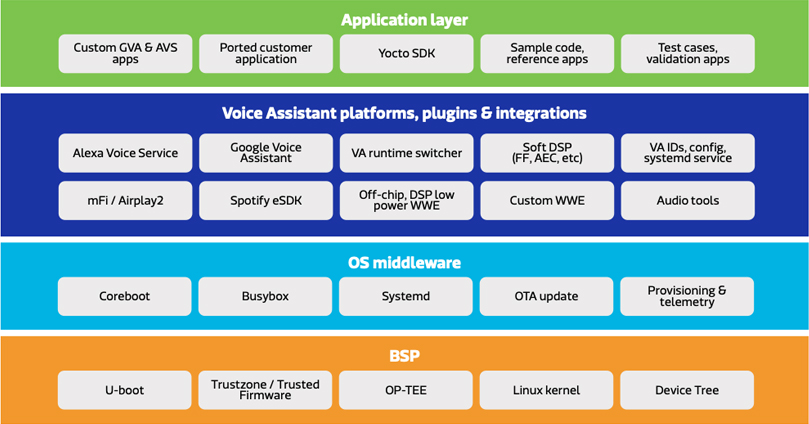 Design Services
Provided by BayLibre
Software customization & support
From concept and part-selection phase through post-launch / OTA
Board bring-up, validate HW design, work with CM on flashing/provisioning
Engineering-to-engineer collaboration with customer application developers, AI/ML teams, designers, etc
Able to provide or own Project Management or leverage OEM resources
Ecosystem Partners
i300B is now a member of Microsoft Azure Certified for IoT