5th Generation MediaTek APU

Exceptional AI Growth
Year-on-year AI performance gains are outstripping CPU and GPU advances, which in turn has helped propel the advances in smartphone hardware – faster and larger resolution displays, increasingly large and complex camera systems, faster always-on connectivity, larger caches, bigger storage, more sensors and features than ever – all while sharing a limited power budget in a mobile device. MediaTek's 6th Generation APU yet again pushes the limits of what a multicore AI processing unit can do.
MediaTek develops its own Deep Learning Accelerators (Performance Cores), Visual Processing Units (Flexible Cores), hardware-based, multicore scheduler, and software development kits (NeuroPilot) that make up the core components of its industry-leading AI Processing Units (APUs).
Achieving Maximum Effective Performance
The 5th and 6th generation MediaTek APU architectures have reconsidered the complete end-to-end pipeline in their design to maximize operational efficiency, ensuring the smartphone will not limit performance during extended use, adversely affect battery life, while also meeting the strict power budgets set by device makers.
This ensures there's ample power available for the other in-chip processors to work in partnership with the APU, giving device makers greater platform flexibility to develop exciting new applications and features.
 Short burst (snapping an HDR photograph at night with AI-camera enhancements)
Thermal constraint (video recording with AI-camera, and high frame rate gaming using AI-GPU enhancements)
Power-sensitive (streaming video with AI Super Resolution).
AI-Camera (MediaTek Imagiq)
Today, smartphone users expect to use their cameras continually, all day, in all conditions, and that requires speed, quality and power-efficiency without compromise. And that's exactly what we've achieved using our 5th generation APU in the Dimensity 9000: using AI-NR is now over 16x faster in the same power envelope than MFNR used previously. This means even while compute-heavy AI-NR + AI-HDR are active, users can now snap HDR pictures twice as fast as previously and capture 4K HDR videos that are more visually accurate than ever, and enjoys unparalleled power efficiency to extend video recording without the phone heating up.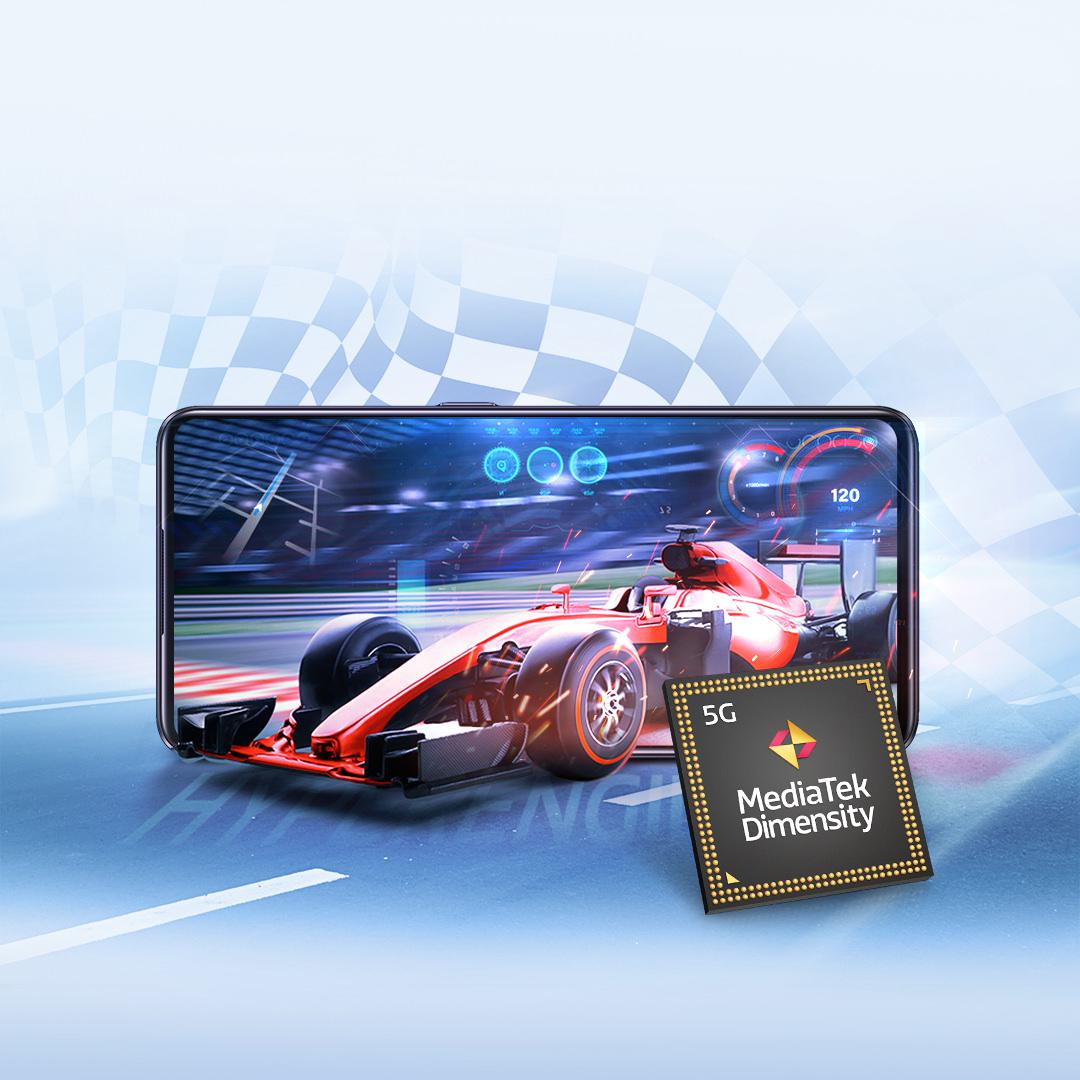 AI-GPU (MediaTek HyperEngine)
AI-GPU adds hybrid processing to reduce the GPU load and/or provide new IQ enhancement features, ensuring the gameplay is fast even while turning up the in-game visuals. HyperEngine 5.0 also introduces the first ray tracing solution using an AI-based post-processing denoiser in Vulkan, on an Android platform.
AI-Super Resolution (AI-SR) is the first Hybrid AI-GPU Super Resolution for Gaming on Android, providing users with both performance and image quality. As a hybrid system, it combines the capability of the GPU and APU together, unlocking GPU resources for more performance or up to 12% effective power-savings, while the AI engine performs intelligent image upscaling to improve perceptible image quality.
AI-Video (MediaTek MiraVision)
AI-HDR Composer (SDR to HDR)
AI-HDR Composer technology uses the APU to intelligently up-convert SDR video to HDR quality in real-time, whether captured from the smartphone camera or streamed via online service. It gives users the full experience of their HDR smartphone display by generating breathtaking visuals and a cinematic experience that is visibly superior.
AI-PQ (Picture Quality)
MediaTek AI-PQ for smartphones works by analyzing the scenes within the video streaming in real-time, and then applying scene-adaptive settings to generate maximum picture quality. The scene detection can recognize common themes such as people, food, landscapes and architecture. Whereas conventional picture quality settings use a single, fixed setting that compromises the real-time picture quality of the content being watched, MediaTek AI-PQ delivers truer picture quality without compromises.