MediaTek Genio 700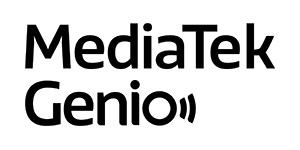 The MediaTek Genio 700 (MT8390) is a high-performance, edge-AI IoT platform designed for smart home, interactive retail, industrial and commercial applications. It provides highly responsive edge processing, advanced multimedia capabilities, a wide range of sensors and connectivity options, and support for multi-tasking OS'.
Smart Retail: Digital signage, desktop POS
Industrial: Edge AI, IoT gateway, HMI
Smart Home: Fitness, smart home appliances
4 TOPS APU performance
The highly efficient, in-chip AI multi-processor (APU) offers 4 TOPS performance for Deep Learning (DL), Neural Network (NN) acceleration, and also Computer Vision (CV) applications when combined with high-detail cameras up to 32MP at 30fps (via in-chip ISP and MIPI-CSI interface). The MediaTek APU supports both efficiency focused INT8 and INT16, and precision focused FP16 tasks.
Highly Capable Performance for Multi-tasking OS'
The Genio 700 integrates an octa-core CPU with 2X 'big core' Arm Cortex-A78 CPUs and 6X 'efficiency core' Cortex-A55 CPU, plus a highly capable Arm Mali-G57 GPU, up to 8GB of quad-channel LPDDR4X memory, and fast UFS storage. This high-performance platform supports multi-tasking capable Yocto and Ubuntu Linux, and Android, allowing easy development and deployment of demanding edge-processing applications.
Exceptional Power Efficiency
Using the advanced TSMC N6 (6nm-class) production process allows the Genio 700 to be exceptionally power efficient, enabling product designers to use fanless enclosures or even off-grid power solutions for more application opportunity. Extensive platform integration plus a small footprint helps minimize BOM and development costs, accelerating time to market.
Connectivity & Interfaces
The Genio 700 offers platform expandability via PCI-Express and USB. It supports a variety of connectivity including native Gigabit Ethernet, plus Wi-Fi 6 and 5G module options.
Advanced Multimedia
Support for up to 4K60 + FHD60 dual displays provide huge screen real-estate, while advanced multimedia encoding/decoding engines, including AV1 decoding, makes the Genio 700 ideal for human-centric applications like interactive advertising, streaming audio and video services, and video conferencing.
Secure, Long-life Platform Commitment
The Genio 700 includes Arm SystemReady certification and Arm PSA certification for security. It supports industrial-grade design, and MediaTek backs the platform with a 10 year commitment.
Specifications
Application Processor
CPU Type
2X Arm Cortex-A78 (2.2GHz)
6X Arm Cortex-A55 (2.0 GHz)
Graphics Processor
GPU Type
Arm Mali-G57 MC3
AI
AI Processor
MediaTek APU (MediaTek Deep Learning Accelerator)
VP6
Display
Max Display Output Resolution
4K60 + FHD60
Video Processing
Max Playback Resolution
4K75
Software
OS, Software & SDK
Android
Yocto Linux
Ubuntu
NeuroPilot SDK
Peripheral Interfaces
IO
PCIe 2.0
USB 3.1
USB 2.0 OTG
GbE MAC
Connectivity
Wireless Connectivity (Optional)
Add-on chip/module:
MediaTek Wi-Fi 6 / Bluetooth 5.2 Combo
MediaTek 5G